About
The EDSS (Expanded Disability Status Scale) Explained
The EDSS represents one snapshot of your overall functioning, encompassing different domains (see the list to your left).
EDSS scores can range from 0 - 10.
A score of 0 means that MS is not affecting you at all. A score of 10 means MS is at its worst.
Your EDSS score can be calculated one of two ways:
The Patient Reported EDSS (prEDSS), where you provide the score
Sometimes, a patient's prEDSS does not perfectly match their doctor's EDSS score. This can be due to fluctuations in how someone is doing. It can also be because the doctor may not appreciate the toll of the patient's less visible symptoms (like numbness), or because the doctor has seen a broader distribution of MS symptom severity.
Both of these patients have a score of 2, even though their symptoms are different
Walks dog every morning. Works at the grocery store, but sometimes has trouble concentrating.
---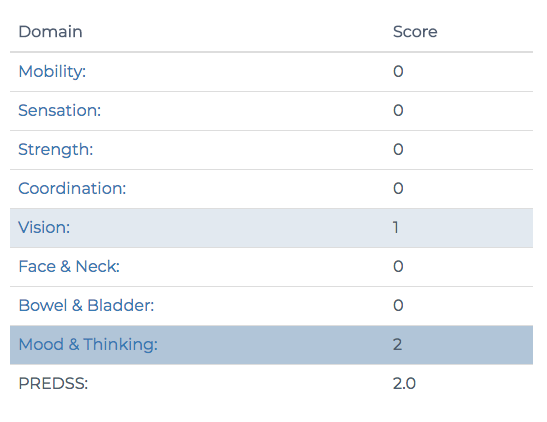 Still teaches at the elementary school. Can walk a mile, but feet are tingly.
---